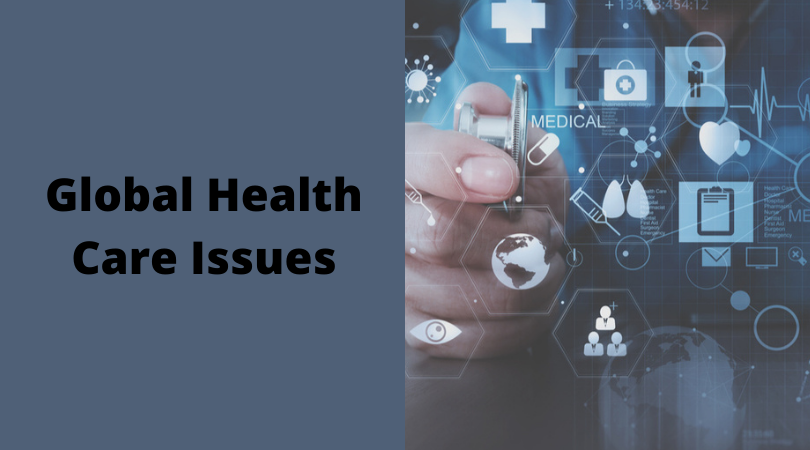 Health systems around the world are increasingly online and mobile, and more patient-centered and need to be resilient in the face of rapid change. Healthcare has traditionally been seen as a fragmented sector with its own local challenges and solutions. But today it is under the influence of global forces of rapidly evolving digitalization, growing demands and expectations of informed and connected consumers, and dwindling resources to innovate and create new infrastructure.
Health systems have a lot to learn from each other, as well as from other industries and communities around the world. Medical services will remain competitive and have the potential for growth and development if they can integrate into new systems, interact with new contractors and create new solutions.
The most pressing issues on the global agenda cover a wide variety of areas of our life. This is human communication with machines, and the change in the consumption nature, and the transformation of business models, and the building of trust. Machine learning, artificial intelligence (AI) and virtual medicine are raising new questions about how humans and technology interact, and increasing the number of people interacting with each other through technology.
AI reveals new opportunities for companies, organizations and governments to create intellectual and ethical institutions that benefit the entire society. Virtual healthcare/patient care applications and technologies are being developed and implemented at a rapid pace, which has the potential to democratize healthcare services by making them accessible to a wider population at more affordable prices. Regulators and key industry players should help consumers understand all the nuances of these innovations.
Healthcare consumers are increasingly interested in positive, personal-related treatment, but many healthcare providers struggle to deliver this quality of care. The new format for patient experience will be based on data collection technologies. The next generation of clinical research will also be patient-centered. Patient satisfaction systems will help find optimal ways to improve customer experiences and attract young professionals. Medical device manufacturers are expanding their functionality by not only helping healthcare providers report on service quality, but also offering real-time patient engagement services, improving safety and compliance, in such a way improving physician productivity.
Healthcare systems must actively build patient confidence with digitalization and increased regulation. Patients are offered a seemingly endless list of apps and technologies to help them manage their health, but healthcare providers almost never help them figure out how and which apps to use. Even if a patient masters applications and technologies for monitoring health conditions, the data he collects rarely ends up in his official medical record. If the patient's mobile device is nevertheless synchronized with the data processing platform of the relevant medical institution, the frequent cyberattacks call into question the reliability of healthcare systems and can make the transmitted data completely useless.
The PwC Medical Research Institute's Global Report on Key Health Issues addresses the most pressing issues facing the healthcare segment today and outlines the next steps to ensure the sector is sustainable in the future. In some countries, these problems will be resolved within 1-2 years, but in others it will take a longer time to solve them.
Global factors: what experiences can health systems learn from each other?
The global health systems, which are changing due to the same factors, still have a lot to learn from each other. Socio-demographic shifts, manifested in urbanization and an aging population, exacerbate the problem of limited resources. By 2025, the world's population is expected to increase by 1 billion people; almost a third of the world's population will be 65 years of age or older. Healthcare organizations should think about the future when solving today's pressing problems, without relying on the legacy of the past.
Declining trust in government institutions and technology is a global trend, with more skeptical consumers demanding more information about their treatment options. They also expect more from their caregivers when they choose who to address. 1 out of 4 consumers in the global sample included in a study conducted by the PwC Medical Research Institute (HRI) speaks of readiness to resort to non-traditional methods of treatment. These consumers want health care that is as convenient and transparent as what banks, shops and other industries offer them.
The second global trend is population aging. After all, more and more inhabitants of the planet are getting older. They place an increased pressure on local health infrastructure and social facilities in terms of health and other services. Pandemics, including Ebola, influenza, cholera and other widespread infectious diseases, also pose a threat to the population of different countries of the world.
Ebola virus disease outbreak in West Africa 2013-2016 killed 11,325 people. At the same time, a frighteningly large number of deaths were recorded during the epidemic – about 74%. Given the global linkages between countries, concern has only grown, with the outbreak affecting 10 countries, including Guinea, Liberia and Sierra Leone, where the virus is the most widespread.
To cope successfully with pandemics, health systems need to improve their preparedness through a range of measures. It is necessary to ensure the availability of quarantine and anti-infection measures and equipment, assess supply chains, stockpile medicines and consider other logistical issues.
Disruption of traditional business models and blurring of industry boundaries is the fourth global trend. The proof of this is the transformation already taking place in the labor market and leading to radical changes in the functionality and job responsibilities of future workers. Health systems and other industries devote significant resources to training staff and identifying future workforce needs.
38% of CEOs surveyed by PwC say they are "extremely concerned" about having skilled workers and how this could pose a threat to business development. Employers estimate that by 2020, changes will affect a third of the basic skills in demand in most professions.
Among global trends, the problem of resource allocation is also distinguished, which means the growth of inequality in the distribution of income and the disappearance of the middle class, accompanied by the growth of populism and nationalism.
These factors are changing the social structure, in some cases leading to a refusal to include the issues of providing the entire population with medical services as a priority. The skyrocketing health care spending is depleting resources, while the demand for health services is only increasing.
In this situation, the authorities need to work to improve the quality of health care and improve access to health care. Global health spending is projected to increase from US $ 9.7 trillion in 2015 to US $ 18.28 trillion in 2040, with a global shortage of health workers expected to reach 12.9 million by 2035. It is under the influence of these trends that health systems will have to develop and implement plans for the short and long term.